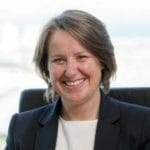 Marianne Harper Gow, Director of corporate governance, Baillie Gifford
The S in ESG
The complexity of assessing societal impact shouldn't deter investors from looking at a company from every angle, argues Marianne Harper Gow
The Covid-19 crisis may have brought the issue to the fore, but there's nothing new about focusing on a company's role in the social order. I cite as evidence an article I came across from The Times, dated 13 January 1975, headlined "Workers want more information and a bigger say on running things". The report was based on a UK-wide survey, concluding: "Perhaps the biggest failure by employers, and one of the greatest importance, is the failure to demonstrate to workers the [commonality] of interest between the management and employees."
At Baillie Gifford we believe it's in everyone's interest that companies do the right thing. We welcome the increased recognition by employers of the 'S for social' in ESG in the 50 years since that survey.
The other parts of the ESG acronym are easier to determine. The 'E' has been boiled down to commitment to tackling climate change, while 'G' is about research into management quality and, at the very least, is reviewed at annual AGMs.
As well as highlighting social inequalities, the coronavirus provided an opportunity for Baillie Gifford to demonstrate the support that responsible share owners owe to investee companies at all times. When the crisis struck, we telephoned and emailed management teams and board members, emphasising our commitment as long-term shareholders. We told them we supported their short-term crisis response and encouraged them to put people above profit.
Once this crisis is past, the vulnerabilities it revealed may promote wider consideration of how a business impacts the people surrounding it. 'People' here means workers, customers, suppliers, neighbours and future generations. The complexity of this stakeholder web explains why there are no easy measurements of a company's societal impact, and why painstaking analysis, proactive engagement and a case-by-case approach are needed.
As long-term investors our research focuses on management quality and corporate culture. This is qualitative research that builds partnerships with the companies we invest in.
'S' covers many issues central to reputation, brand value and customer satisfaction. The issues are as diverse as health and safety, human capital management, modern slavery, working conditions, fair pay, data security and supply chains. Failing on any of these puts a company's social licence to operate at risk.
As well as the non-negotiable commitment to diversity and equality, the above profusion of issues underlines the need for company-by-company research, especially as culture, norms and education levels vary so much internationally.
There needs to be honest recognition across both companies and the investment industry that much more must be done to support racial and gender equality, demanding a step change in developing best practice in culture, governance and disclosure.
What matters most when we consider the social impact of a company? We're guided by three principles: that poor social practices create risks and destroy value; that good practice creates value and enhances productivity, and that solutions to social problems often provide attractive investment opportunities for clients.
But having identified what matters, how do we measure it? There are no easy metrics for corporate culture, supply chain resilience, data privacy and security. Company policies may express intentions, but warm words unsupported by outputs are mere greenwash.
To take one example: Baillie Gifford has engaged with Samsung Electronics for many years and we continue to invest in the South Korean giant. In the past it's had issues with allegations of corruption and poor labour relations. Our engagement revealed that, following pressure from investors like ourselves, it now has clear policies for tackling these challenges. Yet problems have continued as the company has shifted production to countries with looser rules on labour and wages. Samsung is being challenged in the French courts by two Non-Government Organisations accusing it of "misleading consumer practices" in making claims belied by alleged labour issues in China and Korea. The accusers claim that, as French consumers were among those deceived by Samsung's pledges of ethical treatment of workers, French courts can rule in the case.
This legal challenge to Samsung's alleged greenwashing underlines the increased importance of managers not merely accepting that a company has ticked a box. They should instead be having conversations about the principles and business models from which these issues arise.
Ultimately, we believe that companies solving social problems present attractive investments for our clients. That's why we tackle head-on the complexities surrounding the social aspects of ESG.
The great pandemic of 2020 has brought this 'S' into focus, forcing investors to give it the attention it deserves. The next decade should see a wider understanding of what it means in practice, producing ever-improving ways to ensure that business and society are better aligned. It's our responsibility, in the meantime, to challenge companies when we don't see that alignment happening, and to support them when we do.