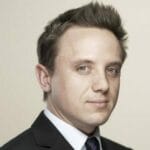 Jason Williams, Portfolio Manager/Analyst on Lazard's Equity Advantage team, Lazard Asset Management Limited
Almost every industry—from consumer goods to financial services—is dedicating significant resources to data-driven analytics to harness insights from the growing volume and complexity of data. Media streaming platforms deploy algorithms to chew through data created by millions of users worldwide to curate a library of must-see movies and TV shows, tailored to individual's interests. The same principle is now starting to apply in asset allocation.
Through alternative data and machine learning, investors are beginning to deconstruct and re-categorise asset choices and traditional asset allocation decisions in order to build customised, bespoke portfolios—designing portfolios from the bottom up, free of traditional constraints, starting with the client's objective.
As the investment landscape becomes less constrained, continuing to categorise securities rigidly in terms of their traditional sectors has begun to feel anachronistic for those investors that seek exposure to trends driven by, for example, technology or shifting demographics. To operate outside of the characteristic mapping that occurs in traditional asset allocation decisions, a multi-disciplinary approach that draws on expertise in strategic asset allocation, security analysis and selection, and originating insights from alternative data is essential.
Take timber, for example. Traditional classifications would confine it to the materials sector—namely the containers and packaging, and paper and forest products sub-industries. Such companies would be involved with the production of paper, paper-based containers and packaging, and the production of timber, lumber, and other wood products. However, within these categories, there may be too few companies directly linked to timber from which to construct a portfolio. Specialist fundamental investors with intimate knowledge of the timber value chain would be able to intuit related companies in other sectors, such as home improvement retailers. But when doing this at a global level it is highly possible to overlook opportunities—the MSCI ACWI Investable Market Index contains 8,675 constituents. Nowadays, however, investors can overcome this issue through the systematic processing of data at scale.
Alternative data sets offer a different starting point from which to construct a comprehensive universe. Financial statements, earnings call transcripts, news data, industry reports, and analyst notes can be parsed using text mining techniques to understand which words and terms correlate strongly with certain companies. The words and terms that feature often are ranked more highly and then cross-referenced against stocks from other sectors to map connected companies within the timber value chain.
Once the value chain has been defined, the universe is optimised by applying fundamental analysis and quantitative techniques to validate the machine-learning mapping—identifying the causal links that connect the underlying companies and eliminating spurious correlations and false inferences. This ensures there is conviction behind investment ideas and that any conclusions drawn from data are based on statistical rigour and rooted in a sound investment rationale.
Asset managers with specialist capabilities in the analysis and processing of big data sets are better placed to extract practical information from otherwise nebulous sources, in our view, unlocking their potential to generate returns, enhance capital allocation decisions, and optimise portfolios.
Important Information
The views and opinions expressed at the date of publication of this article are those of the Lazard Equity Advantage team and not those of Lazard as a firm. These may not be those currently held by the author or by any Lazard company, and are subject to change at any time. Data is used in good faith but no reliance may be placed on it. All data contained herein is sourced by Lazard Asset Management unless otherwise noted.
Issued and approved by Lazard Asset Management Limited, 50 Stratton Street, London W1J 8LL Lazard Asset Management Limited is incorporated in England and Wales with registered number 525667. It is authorised and regulated by the Financial Conduct Authority.