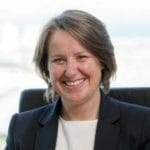 Marianne Harper Gow, Director of corporate governance, Baillie Gifford
Adding the T to ESG: Trust and the social contract
The crisis year of 2020 has highlighted the need for companies to inspire trust in investors as well as society as a whole, writes Marianne Harper Gow, director of corporate governance.
Baillie Gifford's business is built on trust. It's critical to our relationships with the companies we invest in and to our ability to be good stewards on behalf of clients. Looking to invest in companies for at least 10 years means investing in management's vision, strategy and operational expertise.
Trust also relates to companies' inextricable links to society. The companies we engage with must have a positive societal influence, by creating wealth, employment, new technology and tax revenue that supports social well-being. They can't perpetuate inequality, economic risk and environmental degradation.
Investors, customers, suppliers and employees alike are increasingly exacting in their search for trustworthy companies. They want them to be in tune with current concerns and social norms, to anticipate evolving societal challenges and to be ready to meet them.
No longer can companies get by on fluffy words, empty promises and pictures of trees and windmills, they must back green agendas with substantive action. They can't simply denounce race and gender inequality, they must show evidence of action throughout the business, not just in the board room.
The trust we place in businesses to be good social actors matters more now than at any time I can remember. It's become more pertinent in 2020, the year of Covid-19 and a worldwide rage for greater social justice following the death in police custody of George Floyd. There's never been more interest in the role companies play. All eyes now are on how they respond to the challenges and plan for a better future.
At Baillie Gifford, we take questions and concerns directly to the companies we invest in. We do this for several reasons: First, because all of us represent different stakeholder groups at different times in the day, and at different points in our lives. Because we're members of society as well as long-term financers, we need to trust companies not to seek short term gains by cutting costs, exploiting stakeholders and challenging the social contract at the expense of future opportunities.
Secondly, we believe that finance should be on the side of business done well, and that sticking to that vision matters more than short term gains. Yes, a company needs to generate profit, or aspire to profit, to grow and pay taxes, but a company must also innovate and invest for the future, selling a product or service that society wants and values.
Timeframes are all-important here. Research shows a big disconnect in our industry between those thinking about the next 30 years and those thinking about next quarter's numbers. Many trustees and portfolio managers fall somewhere in between.
There is no point worrying about ESG matters while focusing on the next quarter's numbers – it's a contradiction. The nature of the commitment is so different: climate change, capital allocation, succession and talent management simply don't matter if you're obsessing about the next three months.
We aren't looking for a wholesale swing from shareholder to stakeholder capitalism to resolve this divergence. But we do need to find a way to align ourselves better with these long-term goals. The further into the future management can look, and shareholders and fund trustees can think, the easier it becomes to address climate change, workers' rights, fair pay, executive pay and supply chain resilience.
These key issues affect sustainability, trust and the social contract. What we need is governance structures that promote long term strategies and relieve pressures resulting from short-term thinking.
It's no accident that Baillie Gifford remains a private partnership. We think being private is the best way to take a long-term perspective and align our interests with those of our clients, and wider society. We understand that what's right for one company might not work for another: governance structures should vary between sectors and geographies. What's important is that they evolve as a company grows.
So rather than relying on crude ESG scores derived from incomplete datasets and guesstimates, we look for trustworthy corporate leaders with vision, aspiration and commitment who will nurture, deliver and preserve excellence. We need to trust them.